Cumberland Challenge - 2006
Length: 105 miles
Ascent: 2,900m

There were 6 of us doing the ride. Konrad and myself on the tandem, Stuart Thomson, Glenn Rhodes and Nic Bertrand from work, and Glenn's friend John Porter (who was travelling up from Devon to ride!)
| | | |
| --- | --- | --- |
| Allan, Konrad and Stu | Glenn | Nic |
We'd all prepared in different ways for the event.
Nic had just come back from conquering Mont Ventoux a couple of weeks earlier. Slightly different weather conditions apparently (it was high 30's out there!)
Glenn had recently trounced the field in a local time-trial and finally got his revenge on a 60 year old he's had in his sights, to win the event.
Konrad had been on holiday for what seemed like at least a month, so I was surprised he could still ride the tandem!
Stu and me had returned buoyed from our epic(?) ride in the Bealach-na-Ba Challenge at the end of July. Since then, we'd definitely 'wound down' or 'tapered' as the pro's call it. We'd done some leisurely rides in the Lakes, avoiding anything too steep, in between me demolishing the house and getting someone else to rebuild it.
Finally John had commuted to work and back every day for at least ten years (so Glenn tells me, but they're in no way comptetive).
The forecast for the weekend was pretty dire. Heavy rain and strong winds, but for once they got the forecast correct :-( Glenn was supposed to be marshalling at a time-trial on Levens on the Saturday afternoon, but that was cancelled due to the bad weather. So, we had a pretty lousy journey up to Brampton on Saturday afternoon, arriving at our lodgings at about 5pm. We went to the local school hall to register that evening and pick up our numbers etc. Konrad had travelled up with his wife and they were in a campsite just behind the school, which was handy.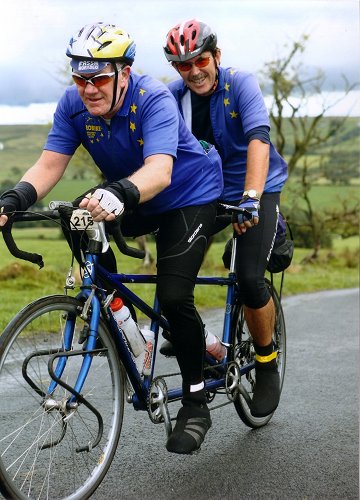 The morning of the ride dawned grey and overcast, though thankfully not raining (yet). The wind didn't seem too bad at the start either. We reckoned we'd get away early and were in the second batch of riders to be started (about 7:30am). The first 10 miles or so flew by. The roads were very quiet, and we seemed to be rolling along nicely, though I had a niggling pain in my thigh - which I was sure I'd ride off. Glenn and John (competitive? me?) left us for dead and obviously had their own personal battle going on. There was another tandem in the event, and we caught them up after about 10 miles. We had a bit of a chat and they said they lived nearby. They obviously knew the road well so we followed them through the first steep descent of the day (hoping they really did know the road well enough to be taking some of those bends so fast!). The fun (and talking) soon stopped as we hit the first real climb of the day at Coomb Wood. We stuck with them for about three quarters of the climb, but then they just gradually rode away from us - and we never saw them again! Stu and Nic were with us at this time, and they too obviously decided the pace was too slow and off they went too. We were getting passed by an alarming number of people (I thought), and just to make matters worse, my niggling thigh pain was now really uncomfortable.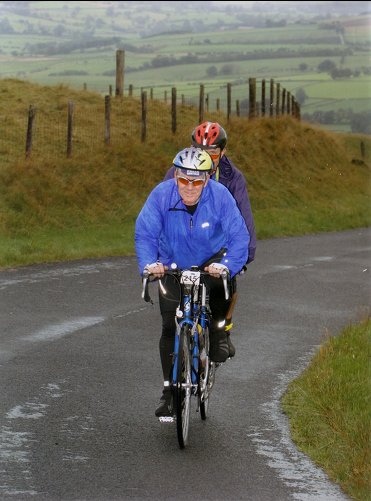 Just before we started the climb up to Hartside, the rain began, so we put on the 'showerproof' jackets and headed on up. The first part of the climb (before joining the main road up Hartside) was the hardest part. Once on the main road, it was a much steadier graded climb, and I was quite surprised when we reached the summit. I was expecting it to be harder than that. The summit was swathed in cloud, so we didn't get any views at all which was a shame. The descent was tremendous. It's a long descent with shallow bends, so you hardly need to touch the brakes. I was surprised later to see that we'd only managed just over 40mph on that descent. I was expecting it to be a lot higher, but I guess the wind was now playing it's part. The rain was pretty heavy now as we plummeted to Alston, where we immediately turned right and headed up the steep, slippery, cobbled street. From here we headed for Garrigill.
Looking at the route profile, I was expecting the section from Garrigill back to Brampton to be fast (as it looked to be generally down hill). What I wasn't expecting was the stonking headwind! The rain was also torrential here. It really was atrocious. Full on, in yer face. This was a very hard part of the day for me. My thigh was by now killing me and I was seriously considering climbing off when (if) we got back to Brampton. I was finding I was over-compensating with my right leg to ease my left. Finally, we made it to the feed at Brampton, and I can honestly say I've never been as glad to get off a bike! I did some stretching and walked around a bit, and within no time the leg felt fine. Stu and Nic were there (and had been for about 10 minutes). They were both feeling it too, with Nic already saying it was harder than the Ventoux! That first 55 miles had been pretty tough. It was then we noticed that the saddle on the tandem was maybe 1/2" higher than normal. I dropped the saddle and decided to give it a go (don't know about you, but I hate packing in - I'd rather just go round really slowly - and finish). So, off we set again, all four of us together.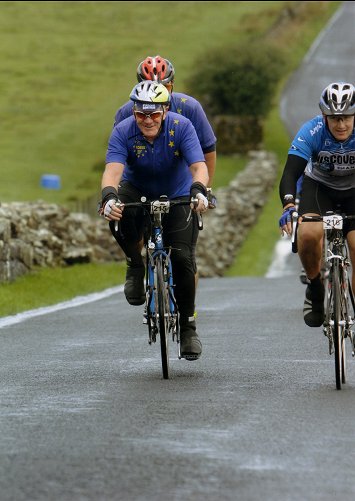 It had stopped raining just before we entered Brampton. The sky looked a little brighter in the general direction we were heading and just before the climb of Banks it was off with the rain jackets.
This next stretch took us alongside Hadrian's Wall, and then on a long steady climb up on moorland roads up to Bewcastle. This moorland road was very 'undulating' and really sapped what little strength I had left! Thankfully the left thigh was sorted, and I had no more pain from that all day. Amazing what 1/2" difference in saddle height can make! The roads up here were extremely quiet. We only saw a handful of cars. Add that to the handful we saw on the first part of the day, it really was a well chosen route.
We were riding on and off with Nic and Stu at this stage. We'd pass them going downhill, they'd pass us up the other side. There were a few dodgy descents with sharp bends at the bottom which we managed to negotiate, but did come across one poor chap who'd overcooked it and come off. An ambulance had been called and there were people with him. Hope he was OK.
We rode on up through Kershope Forest where we crossed Kershope Burn (in full flood) and entered Scotland very briefly. It wasn't long before we were re-crossing the river and were back in England where we soon reached the Nicol Forest feed station. This came at just the right time for me. I was getting pretty hungry, and had soon demolished a load of ham buns. The time (for me) was irrelevant now. We were way down, on what I'd expected.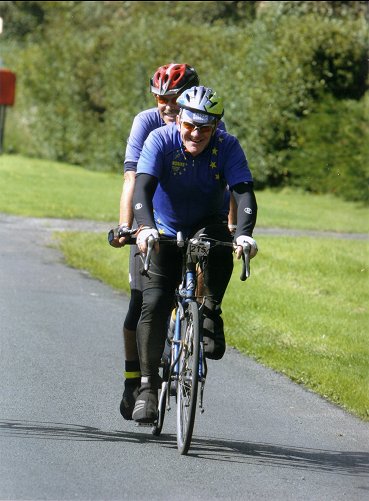 Stu informed us that it was all downhill now to the finish (at least it made the woman serving the ham buns smile). Stu was wrong of course, but, there was nothing like we'd experienced earlier. It was a bit undulating just after the feed stop, and then it did start to go down. We made good time here, and went hard to catch a group of about ten riders we could see ahead. By the time we caught them, the road had levelled out, and on every slight rise, they'd pull away. We'd catch them again on the downhill, but after a couple of miles of this, we gave up the chase and they slowly pulled away. Still, it had kept our speed up. The sun was warm now and the mile markers counted us down to the run in to the finish.
To say I was disappointed with the time we'd managed is an understatement. Elapsed time of 8hrs 20mins. Riding time of 7hrs 49mins. For some reason, we just never seemed to get going on the ride at all. Probably not enough long rides in on the tandem prior to the event, or maybe it was just one of those days. I can honestly say that I found the day harder than the Fred Whitton Challenge we'd done in May this year. Maybe we were in better shape for that, as that was our first 'challenge' ride and we were a bit worried about it to say the least, which spurred us on to some long hard rides as training. Maybe we'd become complacent. Having said all that, I enjoyed it in a masochistic sort of way, and would definitely do it again.
Stu and Nic both did 8hrs 20min rides.
Glenn and John did 6hrs 52mins - and we'll say no more about that!