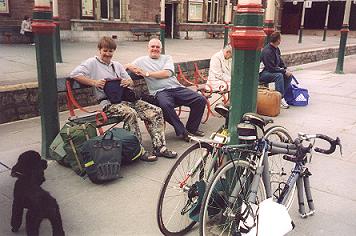 I'd taken my bike down to Konrad's the night before our departure, as it's just a 10 minute walk from his house to the train station. We'd had glorious weather for a good two weeks before our departure, so I was quite glad to see that it was overcast and a little cooler when I woke up that morning. Couldn't have them having good weather while we were away, could we. Wheeling the packed bikes and panniers from Konrad's house to the station was fun, bearing in mind, the front wheel was out!
The train journey was, thankfully, uneventful. The train was right on time, and not too crowded. It also took us direct from Ulverston station directly to Manchester Airport. We'd both had bad experiences on the trains of late (breaking down, late, not arriving at all etc), so we'd purposely taken an early train, banking on the fact that if there was a mishap, the train behind would get us there in time. The return journey was another matter, but more of that later.
We arrived at the airport with loads of time to spare, but reckoned we'd go straight to 'Departures' and see if by chance our check-in desk was open. This year we were flying with AirTours, and unknown to us they have a 24 hour check-in policy, that is, you can check-in for your flight up to 24 hours before take-off. We walked up to an empty check-in desk and a very efficient young man did the necessary. Interestingly, this year, they weighed the luggage. Uncannily, our panniers both weighed exactly the same at 13.8kgs. I noticed mine were very evenly packed too at 6.8kg for one and 7kg for the other!
We had the usual wait for a chap to arrive to deal with the bikes. He took us to one place where we knew they would turn us away (they did), but eventually we got rid of the bikes at the same place as last year. We'd tried to tell the chap this, but personally, I don't like to argue when someone is going to soon be in charge of my bike. Take it out on me yes, on the bike, no!
We went for the by now ritual bacon and brown sauce sandwich, and finally, through to passport control and on to the departure gate. Take-off was delayed about 50 minutes, and for the first time, as we walked to the plane, we could see into the hold and see our bikes perched on top of a pile of suitcases. At least they're on the same plane I thought to myself. Within no time, we were on our way again.
The plane was just about full, I'd say 4 or 5 seats vacant. I don't know about you, but I can't help listening to other peoples conversations when on a plane, and observing how others react. This year we had a couple of corkers!
There was a chap behind us talking to an elderly couple. I reckon this chap was about 50, and he was explaining where he was staying in Rimini etc. Talk then got on to more personal things. He told them how 'young at heart' he was and that he was known by his colleagues in the office as Peter Pan. The real howler came when he told them that he was scared of heights, but not scared of flying. Quick as a flash, I turned to Konrad and said that he'd be no good as Peter Pan if he was scared of flying would he!
The next chap was what I'd call a bit of an awkward sod. The cabin crew came round with tea/coffee, and later came round with the meal. When they handed him his meal, he went into a great diatribe about how he wanted his tea with his meal. Surely they could manage that, who did he complain to etc etc. The sort of bloke you feel like strangling! They had to call the senior steward who explained that they couldn't serve both together for safety reasons (i.e.. boiling hot water on a trolley etc), but he wasn't having any of it, and asked for and got the name and address of someone to complain too. His no doubt long suffering wife sat next to him in complete silence. Bet she had a lovely holiday!
But enough of people watching. After a 2 hour flight, we were landing in Rimini.