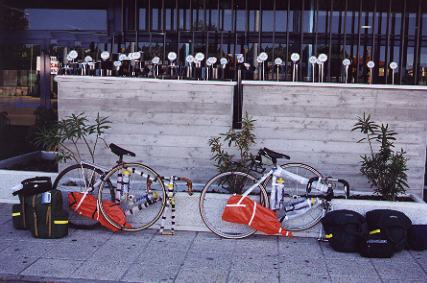 When it came to packing the bikes, we just did the following...
Pedals off
Handlebars turned and strapped to the top tube – note, not loosen the headset or anything like that, merely turn the handlebars
Front-wheel out and strapped to the main triangle
Tyres partly deflated. (I know!)
We wrapped the tubes using pipe lagging, secured with lots of electricians tape, and covered the transmission with a sheet of cardboard (bent over the chain ) and taped securely. As well as protecting the rear mech., it protects other peoples luggage. We fastened one of the cranks to the chain-stay to keep it from moving, used an old hub in the front forks to stop them from being crushed, and that was it.
In Rimini, we unpacked the bikes and dumped the pipe lagging in a bin. We'd considered burying it on the beach or hiding it in a bush, but reckoned we'd never find it again anyway. So, we figured we'd find something to wrap the bikes in for the return (anyone know the Italian for 'pipe lagging'?) In the end, our friend Francesco came to our rescue with some sheets of bubble wrap, and we cut up an old orange bivvy bag to wrap around the transmission (see picture above).
This year, we flew both ways on a charter flight with AirTours from Manchester to Rimini. Obviously 'bikes on planes' are now getting more popular, and far be it from the airlines not to spot a nice little earner, so, the charge for transporting a bike was £30 on top of the ticket price of £140.
We had considered going with RyanAir, who fly from Stansted to Ancona, but in the end, there were two main reasons why we didn't...
We had to get from Ulverston to Stansted. Trains from Ulverston to London arrive at Euston, so it would mean a change of station (Kings Cross?), plus, it would mean an extra day tagged on to the front of the holiday.
When we made enquiries about taking bicycles, they said that we would get a coupon with our airline tickets and we would have to pay for the bikes at the airport (£15 I think). When we asked why we couldn't pay when we bought the flight tickets, we were told that wasn't possible as they may not be able to take the bikes. It would depend how full the plane was, how much luggage etc. This sounded the death knell for RyanAir as far as we were concerned. It's a tad difficult having a cycling holiday without a bike.
As it turned out, I'm glad we did fly to Rimini. It meant we started the tour at the north of the region, rather than in the middle.