---
>Route planning
---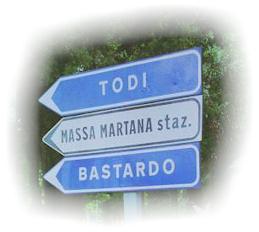 This was the bit I enjoyed most - apart from the trip itself of course.
I don't know about you, but I only have to see a name like Montepulciano and I instantly have a picture of it in my mind (wasn't quite sure what to expect of Bastardo though ;-)

I don't think I was disappointed with any of the places 'in the flesh' in this respect.
First of all, we ordered some reading matter. As we're in the UK, we looked for a good UK bookshop Web site, and found one at... http://www.bookshop.co.uk
The first thing we ordered was The Rough Guide to Tuscany & Umbria, and basically, apart from the maps that would probably have done. As well as all the really useful information on the towns of the area, there was a 'free' Rough Guide Phrasebook that came with it, which had a nifty menu and wine translator. So, when we saw Cinghiale on the menu, we knew what we were getting. That little phrasebook went everywhere with us, and is looking a bit dog-eared now. Luckily it didn't get left behind with all the other stuff in Siena - but that's another story. We picked up a couple of other things (with pictures!) of which the best was probably a thing called 'Tuscany & Umbria' a European Regional Guide. It's aimed at car travellers presumably, as it's published by the AA (Automobile Association), but it did have some good descriptions of places (even the smaller places we visited like San Miniato) and it also had some pictures - to get us in the mood. Of course there's also that great British Institution, the Library, but I can never remember to take the books back on time! Well worth a look there though. I did do some 'browsing' and again, looked at the pictures.
We wrote to the Italian Tourist Board, who sent us some info on hotels, campsites and a booklet 'Discovering Tuscany by bike'. These were in the main off-road trails. Interesting to read to get a feel for the place, but we didn't take any of this stuff with us.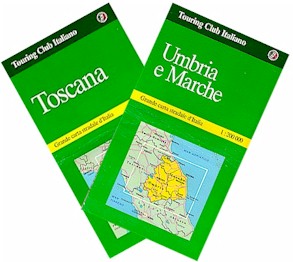 The maps we used were Touring Club Italiano (1:200,000), which we found excellent. They showed all the quiet roads we wanted. There was one for Tuscany and one for Umbria and the Marche (pronounced Markay). After sitting around the dining room table with maps spread out for a night or three, and an ever growing list of names which oozed 'Italian' (well they would, wouldn't they), we started to put the names in order to make a 'circular' route (Pisa to Pisa).
Once we'd got the places in some sort of order, we fed them into Microsoft AutoRoute Express (Europe). I must admit, I wasn't expecting this to be of any use, compared to the paper maps, but it was excellent. I never expected it to go down to the detail we wanted, but it did. All we had to do was tell it we loved scenic roads, liked B roads, could handle the odd A road and would not consider travelling on a Motorway (though we managed to stumble onto one on the outskirts of Perugia - frightening!), and let it fill in the rest. We'll definitely use it again.
And that was it. The difficult bit was leaving places out.
After that, it was just a case of chopping it up into manageable chunks and deciding which towns we'd aim to stop in each night. In the main, we stuck to this, but our philosophy was 'what the hell, if you like somewhere, stop and look at it'.
To re-cap:
www.bookshop.co.uk - for books and maps

Books:
A Rough Guide to Tuscany and Umbria - with menu and wine translator! (ISBN 1-85828-243-8)
Tuscany & Umbria - European Regional Guide (ISBN 0-7495-0586)

Maps:
Touring Club Italiano (1:200,000) Toscana (ISBN 88-365-1130-9)
Touring Club Italiano (1:200,000) Umbria e Marche (ISBN 88-365-1132-5)

Software:
Microsoft AutoRoute Express Europe (Bill Gates ;-)