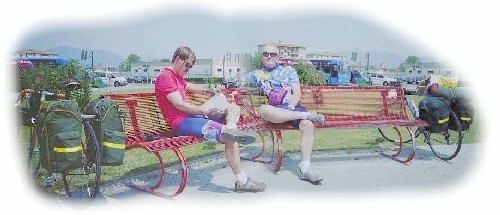 Nice to say that we had no problems whatsoever at Pisa Airport in either direction, despite the rather dodgy looking sunglasses (jeez! look at those white legs - you can tell we're British!).
I was a bit surprised to see the bikes, plus panniers, coming round on the luggage carousel with all the other passengers luggage (and so were the other passengers!).
It didn't help that Konrad had stood at the wrong carousel, and that all our stuff came literally one piece after the other. I didn't fancy its chances if it went round again, so I had to frantically take a bike off, move on a couple of yards, take another bike off etc etc. I must say it's a great way of getting to the front of the queue and getting your stuff off first. Nothing like a pair of forks whistling past someones ear to make them give you a wide berth :-)
After that, we just took everything to a quiet corner of the baggage reclaim area, stripped off all the cardboard and bubble wrap, changed in the Gents, and off we went.
On the return journey, they didn't want to weigh the bikes, X-ray them or anything like that. The young lady called an 'operator' over, who simply carried them away. The panniers simply went down the luggage chute!