---
>To the Airport
---

We left Ulverston, in the Lake District, at 3:30am on Thursday 14th May 1998, bound for Manchester Airport and finally Pisa.

My father had kindly agreed to transport us to the airport after we found that North West Trains don't run any 'through the night' services to Manchester Airport. This is a real shame. I'm sure they'd have takers for it. We used the service from Ulverston to Manchester Airport last year for the family holiday, and it was brilliant. No changing trains, and direct to the terminals. The other alternative would have meant spending around 7 hours at Terminal One. I'd done that before when the French Air Traffic Controllers were on strike, and it wasn't funny. When you've seen one 'Sock Shop' you've seen them all.

Anyhow, the bikes were strapped on the roofrack (a little innovation Dad had knocked together in my time-trialling days), the panniers were in the boot, and we were off. As you can imagine, roads at this time are pretty quiet, and we were there at 6:00am. Plenty of time for our flight which was due to leave at 8:00am.

As we approached Terminal One, we noticed a height restriction bar of around 6'6". The bikes certainly wouldn't go under that, so we had to take them off the roofrack and wheel them the last 50 yards. Luckily, when we taped the transmission up we made sure the back wheels still turned!

Loaded the bikes and panniers onto trolleys and set off in search of the desks for our flight. There were two desks open, and we stood back for a few minutes trying to decide which of the girls looked friendliest, or better still, looked like she might do a bit of cycling herself. Konrad's the smooth talker so he went first. She'd evidently dealt with his sort before, and picked up the phone 'to check whether there was a charge for bikes'. We told her there wasn't, we'd checked all that, but she didn't want to believe us. There was no charge she told us, and then we went through the 'weighing the luggage' routine. Mine was fine, but Konrad's was 'slightly over the 20kg limit'. She gave him a plastic bag and told him to re-distribute some things. We couldn't understand this. It would all weigh the same wouldn't it? Konrad's charm must have worked though. She said she'd put us in Row 12 – the emergency exit – as there was more leg room for us. So, we thanked her, Konrad put the plastic bag in his pocket and we went off in the direction she'd indicated we would need to take the bikes and panniers, as they couldn't go down the normal luggage chute.

We found ourselves in a very long queue, full of people carrying golf bags, surfboards, baby buggies and the like. Just as we neared our turn, a man came along and asked us to follow him – we'd been in that queue for 20 minutes or more! He put the bikes and panniers through a 'large' detector, and that was the last we saw of them. We went off for a bacon sandwich and a cup of coffee and waited for our departure.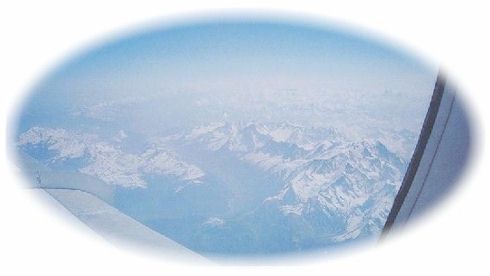 The plane left on time, and we were away (praying the bikes were coming on the same flight!). Unfortunately there was lots of low cloud over Britain and most of France, so we didn't see too much at first, but it cleared later and we were rewarded with some fantastic views of the Alps (from 29,000 feet), and in no time at all (well around 2 hours) we were touching down at Pisa Airport.