Day 1 - Thursday 14th May 1998
Pisa to Lucca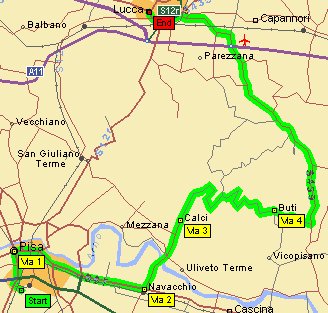 Route:
Pisa Airport - Pisa – Navacchio (No 67) – Caprona – Calci (local roads)
Calci – Buti – Cascine (local roads)
Cascine – Lucca (No 439)
Kilometres: 60
On our planned route, today's leg to Lucca was to be a very short 28 kilometres, but one thing we seemed to find difficult throughout this trip with most of the places we visited, was 'finding the right road out', and day one at Pisa proved no exception. I guess we just don't have a good sense of direction.
Anyhow, we basically just set off riding, and found ourselves travelling down the No 67 towards Cascina. Before I start on the journey proper, a few observations. Being thoroughly organised as usual, I had put the rack on the bike a week before the trip, and hung empty panniers on it for my daily ride to work (well, they had my sandwiches in). Nothing prepared me for the strange feeling of riding with two heavily laden panniers. I think I realised as I pulled out of the car park, that I may struggle a tad on some of the steeper climbs!
Back to the journey.
Once we realised we were basically heading in totally the wrong direction, we studied the map, and decided to head towards a place called Calci which seemed to be lying in the general direction of where we wanted to go. We had tons of time and it would be a good opportunity to get used to riding with all this extra baggage. We turned off the No 67 at Navacchio and soon found ourselves climbing up to Calci. We reached a fork in the road, and asked a chap who was watering his garden which was the best way to Lucca. Luckily he did speak a little English. His first thought was probably 'why are they going this way to Lucca', but he went over the map with us, and explained that we needed to carry on up the climb ' which goes on for several kilometres'. We thanked him and carried on. Just after setting off again, we turned a corner and were faced with a vicious looking climb. I'm sorry to say that on 39*26 (my smallest gear) I couldn't get up it! Feeling thoroughly ashamed, I walked to the next corner where it eased somewhat. I had dark forebodings – were all the climbs going to be like this – would I get much riding done at all, or would I have to walk most of the way? As it turns out, I needn't have bothered. We'd done the worst bit. We carried on climbing for around 6 kms to a height of 650m (basically from sea level). All the way up, we'd seen lots of cyclists travelling in the other direction – down! They all wore long sleeved jerseys, bike capes or both. How could they wear stuff like that in this heat I wondered. The last kilometre or so was again particularly hard, but at least I didn't have to get off again. We reached a road junction, where we got talking to 2 cyclists out on their daily 'circuit' over the Monte Pisano hills. They were from Lucca, but apparently everyone does this climb in the other direction. We now had a choice, we could descend down to Buti to join the No 439 for Lucca, or take the left fork, carry on climbing a bit further, then descend and join the No 439 nearer Lucca. We whimped out and took the instant descent for Buti. As we descended, there were lots of very tired looking army conscripts walking up the hill, carrying rifles and what looked like heavy packs. Some of them looked dreadful.
This was our first taste of many incredible descents, and was thoroughly enjoyable. Many cyclists were toiling up the hill towards us (which somehow makes it even more enjoyable ;-). It certainly was a popular route for bikes. We zoomed through Buti and a few kilometres later at Cascine, joined the No 439, turned left and made for Lucca. This road was fairly flat, though a lot busier than the mountain road we'd just been on. As we approached Lucca, we found ourselves at a crossroads and decided to consult the map. Konrad pulled on to a grassy traffic island , lost it, and all I heard was a 'dong' as his helmeted head hit a road sign. We were both creased up (as were the Italian motorists behind us!).
We soon found ourselves in Lucca, and headed through the walls to the old town, looking for Piazza Verdi, where we knew the Tourist Information Office was located. According to the 'Rough Guide', it closed at 7pm, and as it was 6:15pm, we had plenty of time. We found Piazza Verdi at 6:25pm and Konrad went in to get details of available accommodation. I stood outside guarding the bikes. We were very lucky. The office closed at 6:30pm we were told, but the lady gave us some phone numbers and locked the doors for the evening. Konrad volunteered to try the first phone number (after we'd rehearsed 'ha una camera per due per una notti?' several times). Again, luck was on our side, and the gist of the conversation appeared to be yes, they did. We got the address (eventually) and set about finding it. This proved to be remarkably easy. It was literally a couple of streets from Piazza S Michele, and even we could find that. This was not a hotel, just rooms for rent, with showers along the corridor, but more than adequate for our needs. It cost us L75,000 which we thought pretty good value, considering we were in the heart of the old town, yards from one of the most famous piazza's. The chap in charge kindly let us store our bikes in the cellar along with the dirty laundry.
After a brief look around, we ate in a restaurant a couple of doors away feeling pretty chuffed with how the day had gone. Lucca was very quiet. We'd expected more tourists than this, but there again, 7pm at night I guess is not the busiest time.
We began to feel a little easier about not having pre-booked any accommodation. If we could find somewhere this easily in Lucca, then surely we would be OK elsewhere.
Impressions:
I think we're going to enjoy this holiday.
Wish I'd been able to afford the Campagnolo Veloce TRIPLE chainset!
Why did we bring half this stuff!