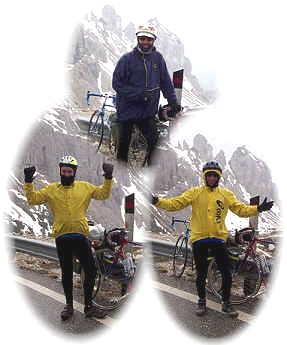 The vague idea for this trip came in 2001, when I was on a family holiday in Austria (based around Zell am See). One day, my wife and I took a trip over the Großglockner Alpine Road (no, not by bike unfortunately), and that was me hooked. I've just got to bring my bike over here, I thought to myself. I got talking to an Irish bloke on the coach who obviously had the same idea. I hope he manages it too.
On the pass that day there were loads of cyclists, and when the coach stopped for a 'refreshment break', I spent most of the time wandering around the car park checking the bikes out, looking at gear ratios etc. Of course the sun was out then!
In 2000, Konrad and I had toured the Marche region of Italy and made a very good friend, Francesco, from Pesaro. We asked him if he'd like to join us on this one, and I'm glad to say he agreed. So, it was to be a truly European affair! Francesco now had a problem. He needed to 'tourise' his bike. As any self respecting Italian will tell you, you do not put a rack on a racing bike, and as for panniers - what are they? The triple chain set also met with some funny looks apparently, but, after some false starts, his local bike shop came up trumps and Francesco's lean mean racing machine was transformed into the cycling equivalent of the pack horse.
Of course there's lots of information on the Internet about cycling in the Dolomites and Alps, but our friend Sergio in Pisa regularly cycles 'up there' and he was able to pass on lots of useful information on where to go, where to avoid and also said he would try to meet up with us and ride for a couple of days. Little did we know what he was planning!
After some 'umming' and 'aaahhhing', we decided we'd fly to Treviso (Francesco would get the train from Pesaro), and then slowly meander northwards and eastwards over the Dolomites, into Austria, over the Großglockner and finish in Salzburg where we'd fly home.
Now Francesco had a cycle touring magazine which had a description of a climb called the Lavaredo. He scanned in the article and climb profile and mailed it to me. The first thing that caught my eye were the following words 'Difficolta - Estrema'. Even with my pathetic Italian, I knew what that meant. The profile alongside those words looked, how can I put this, alarming! It's basically an 8km cul-de-sac. You ride up, turn round and ride down. Sounds easy eh! So, as well as the Großglockner, that one was 'pencilled in' too (until I could find my rubber!)
I'd heard about the 'Sella Ronda' or 'Sella Ring' which takes in 4 well known passes (well known to Giro d'Italia fans at least), so that was a must as well.
Anyhow, so this doesn't get too long, I suppose we set ourselves 3 main targets on this trip. The Sella Ronda (Sella, Gardena, Campolongo and Pordoi passes) in one day, the Lavaredo (we hoped without panniers, but hope doesn't hack it!), and the GroßGlockner (including the climb to the Pasterze glacier).
It was shortly after deciding on this basic target, that we came across the 'Climb Profile' site (see below). Basically this lists most climbs throughout Europe, and grades them in terms of difficulty. Not just using a crude metres climbed / distance travelled approach, they break it down a bit more scientifically, and use those funny greek symbols that I've never understood. I compared some of these 'difficulty' scores to some climbs in England I know well like Hardknott Pass (33%), Wrynose Pass (25%) etc, and for some of them, I was a bit alarmed at the scores they received. Had we bitten off more than we could chew here?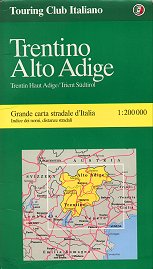 Again, the Touring Club Italiano (TCI) came to our rescue on the map front with the excellent 1:200,000 map of 'Trentino Alto Adige', which covered all the Italian section of the route.

As with previous years, we used Microsoft's "Autoroute Express - Europe" to get a rough idea of distances and explore various options. This time we did find a couple of roads 'missing' in AutoRoute, but Sergio assured us they were there (we hoped so!)

A major issue with this trip was avoiding long busy tunnels, and I'm pleased to say we managed this without any problem whatsoever, thanks in the main to Sergio and friends offering us good advice. Yes we rode through a handful of tunnels, but these were short and quiet.

Now May is fairly early to be riding in the Dolomites and Alps. For example, the GroßGlockner road opens 'early May' depending on the weather, and accommodation in one or two towns can be a bit thin on the ground until June.

We booked the first night in Treviso (always a good idea) as we didn't arrive until late. We'd heard about a hotel at Kaiser Franz Josefs Hohe (Pasterze glacier) which sounded amazing, but when Francesco checked they said they didn't open until June, but recommended the Hotel Post in Heiligenblut, so, we booked that (and looked forward to meeting Heidi!). Quite optimistic to think we'd get there on the right day looking back on it!