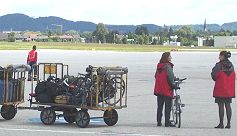 We got an alarm call at 6:45, had a quick breakfast and while we were checking out, the pre-arranged mini-bus arrived. The chap running it was very helpful and friendly. He cycled himself (and did rock climbing). It always helps when you get a kindred spirit. To get all 3 of us with bikes and luggage to the airport from the centre of Salzburg cost us €20.
We obviously chose the wrong check-in desk. A very stony faced girl who needed a personality transplant. First of all, "Have you got a bike voucher?". Errr no, we hadn't. Well we had to get one of those first. So, off to another counter where they sold us 3 for the princely sum of €22 each, and back to the desk waving our vouchers.
Now she didn't like the look of Francesco's id-card. I wasn't sure what was wrong with it. I know the picture was a bit naff, but have you looked at your passport photo lately?? But, after reading it from cover to cover and memorising every detail, she accepted it.
Once she'd dealt with that hurdle, she couldn't decide whether she wanted the panniers on the conveyor belt or off it. She was getting more and more frustrated as we'd put them on, take them off, put them back on...
Eventually after plastering them with stickers (which peeled off as you stood and watched them), she told us to take it all (bikes, panniers, the lot), to the self-service (i.e. do it ALL yourself) 'bulky items' baggage point.
We weren't sure what to do here. Do we wait for someone to come out to take the things off us? No, of course not - you press all the buttons you can find on the wall by the conveyor belt. As if by magic, a steel door rose to a height of about 15". We put the panniers on and they went under easily enough, and disappeared. Now, the bikes. Laying them down on the conveyor belt, they just wouldn't fit under, but if you tipped the back end up and got the bars through, then laid it flat it went under. While we were manouvering the second bike into position, the steel door closed. Hope it won't do that with a bike half way under I thought to myself.
Eventually, we got the last bike through, went for a coffee and then off into the departure lounge where we saw the flight was delayed by 1½ hours!
Once more, the flight was uneventful. Francesco bade farewell to us at Stansted airport (it was now his turn to hang around for an evening flight back to Ancona - I couldn't believe that it was quicker and cheaper for him to fly Salzburg-Stansted-Ancona than to get a train from Salzburg to Pesaro).
The train journey home to the Lakes was something I was dreading, but, it was perfect. We changed at Peterborough and Manchester Victoria and that was it. About 7 hours in total, but absolutely bang on time. No problems with the bikes either. Well done RailTrack! (or whatever you're called this week).