Heiligenblut to Zell am See (73 kms)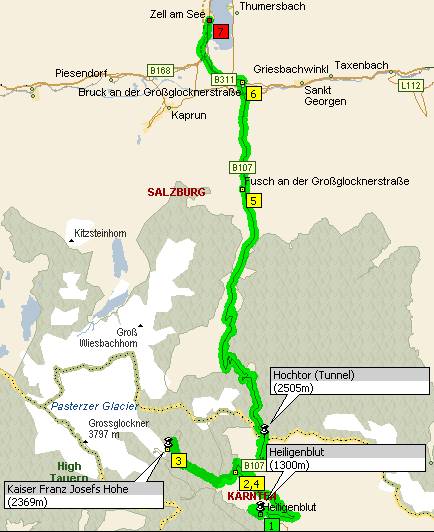 Several bowls of yoghurt and muesli and cups of coffee this morning. We knew this was going to be a big day. Unfortunately, there was light rain as we left the hotel at 10am and immediately started climbing, steeply, for our first destination, the Pasterze glacier at Kaiser Franz Josefs Höhe.
It wasn't long before the rain turned heavy, and we were literally up in the clouds. Visibility was getting worse and by the time we reached the toll booths (which seemed an age!) I guess visibility was down to 20 metres. We carried on through the toll booth and just before the roundabout at Guttal, we all put our 'really wet weather' gear on. Of course climbing in all this clothing, we were going to get as wet from inside as out, but we had to keep warm.
At Guttal we carried straight on for the glacier. As we passed, I glanced to the right and saw the road rearing up to Hochtor and tried to shut out the fact that I'd be coming back down to here and going up that too. Visibility was down to a maximum of 10 metres now. We put the rear lights on as we ploughed on through the rain and dense fog. The occasional coach passed us, but the road was very quiet (well who'd come out on a day like this!). Plenty of snow about up here, but the road itself was perfectly clear. They really do a good job with the snow ploughs which you see strategically parked along the road. Amazing to think that they used to employ around 3,000 men to clear the snow from the roads in the early days, and it took them around 2 months. Now apparently they employ 30, thanks to the invention of these 'snow cutting machines'. Also amazing to think that my county of Cumbria in England grinds to a halt when we have an inch of snow! I've since purchased a short video on the GroβGlockner Alpenstrasse and that has some great footage on both the modern and original road clearing operation. Well worth buying if you ever visit.
We finally reached the glacier (2,369m) at 1pm. Three hours of hard continuous climbing from Heiligenblut (1,300m). Just over 1,000m of climbing in atrocious weather. The last stretch through the avalanche tunnel to the summit was especially hard. It was very cold and very windy up there. Sadly, we couldn't see a thing. You could barely see across the road. So, we hijacked a tourist to take a quick photo of us in front of the sign, and then it was into the cafe for soup, apfel strudel and custard, coffee and chocolate. Francesco and I tried drying some clothing on the hand dryer in the toilets, but it was a pretty hopeless exercise. I did succeed in almost burning a hole in my thermal vest though. I think we were all a bit reluctant to get going again We could see the rain splashing off the tables outside :-(
A chap from Blackpool and another from Bedfordshire came over and introduced themselves. They'd been in one of the coaches that passed us on the way up, and congratulated us on making it this far. Questions like 'do you have to get off and walk?' (Well we hadn't so far, but I wasn't going to rule it out ;-) 'why are you doing it?' (It's a holiday!). Lets hope we inspired them to do it themselves some day. I can't describe the feeling of making it up there under your own steam. Finally, we couldn't hang around any longer, and amid a startled crowd of Japanese tourists we donned balaclavas, dry gloves and anything else we could find and disappeared into the fog again.
The descent down to Guttal wasn't enjoyable. We crawled down (a) so we could see where we were going, and (b) so that we didn't suffer too much wind chill. At the roundabout, we turned left and started climbing steeply again. I was now in absolute plodding mode. Any thought of saving a gear for later had now gone right out of the window ;-) As we neared the summit, the snow was piled high at the sides of the road, the rain continued to fall and the wind at times was blowing us across the road. Finally, after almost 1½ hours of climbing, we reached the highest point on the road, the Hochtor Tunnel (2505m), which marks the border between the provinces of Salzburg and Carinthia. This tunnel has huge doors on it - thankfully they were open - it would be a long detour otherwise, which are closed in Winter, presumably to keep the snow out.
We stopped briefly for some photo's by the enormous 'wind chime' by the tunnel, getting colder by the second, though there wasn't much to see beyond about 10 metres unfortunately. The wind was whistling through the tunnel, and we were just about to leave when we heard yodelling (and I mean proper yodelling - not like the rubbish we'd been trying to do :-) coming from the tunnel. It was really quite eerie! Was this the ghost of some frozen cyclist come back to haunt us? No, it was a big jovial Austrian chap. He appeared out of the tunnel, big beaming smile on his face, no gloves on!, jacket partly unbuttoned!, big red face. He came over and started talking to us. What a great character. He came from Bad Reichenhall and had ridden up from Zell am See. He was on his way to Assisi (quite a journey). He said he was heading for Lienz that night. We told him that that was a long ride and that he might be best trying Heiligenblut. He was riding a black mountain bike with large panniers and had a Kangol waterproof jacket on. If it was you, please get in touch with us. We'd love to hear how you got on. Likewise, if you know who it might have been, let us know. Unfortunately we were almost frozen and had to get going. Couldn't believe he didn't have gloves on!
We rode through the tunnel (lit) and on the other side visibility was much better. We descended down through a second short unlit tunnel and on down to Fuscher lake. Although we didn't stop here, it is worth stopping at the restaurant at the lake, weather permitting. The owner has a pet marmot, and is a very interesting chap to talk to. From here, there's a last climb up to Fuscher Törl (2428m) where the road runs around a spur of rock and finally begins it's descent. At Fuscher Törl, there's a memorial to those killed building the road. It's also a fantastic spot for photo's - when the weather's clear.
The descent goes on and on - and on. It was nice to eventually see some green again. We were soon down among trees. We stopped just after the toll booth at Ferleiten, more just to get our bearings (and our hands off the brakes) than anything. Then we were off downhill again through Fusch and occasionally via bits of cycle path all the way down into Bruck. We stopped in Bruck to take some off some of the clothing (we were getting strange looks - I'd forgotten I still had my balaclava on!). Then it was cycle paths all the way to Zell am See. We came along the side of the lake, crossed the railway line and went up into the town. We picked a hotel totally at random, the Hotel Lebzelter, which turned out to be a good choice. They had a sauna too! They also had a boiler room with lots of pipes where we could dry our wet clothes, shoes, gloves etc.
One of the first things we did was to crack open a bottle of sparkling wine which Sergio had given to us back in Mel (and Francesco had kindly carried over all the passes - it even survived the crunch when his rear rack broke and the panniers fell off!). We'd wanted to drink it in the sauna, but bottles weren't allowed. The evening meal was excellent.
All in all, a very tough days cycling on a cold, wet day. We'd ridden approximately 6 hours in dense fog. Such a shame. The scenery around there is stunning, but having said that, it was thoroughly enjoyable, but in a different sort of way. A great sense of camaraderie, and some of these mountain passes do look good in bleak weather. Makes you feel very humble and small. We'll just have to go back and do it on a sunny day. What a sense of achievement though.
Hotel details...