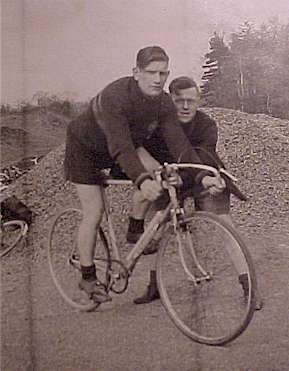 As we zoom around on our lightweight bicycle frames, tri-bars, 10 speed cassettes, wearing clothing that one minute keeps you dry and the next, wicks the sweat away, it's interesting to look at how it was in the 1930's-1940's.
My father, Les Nelson, was in what was known as a 'reserved occupation' during the Second World War, a riveter in the local Vickers Armstrong Shipyard in Barrow-in-Furness. He started cycling in 1934, and soon became a keen cyclist, who, as well as racing and touring, rode his bike to work from 1936-1947, regardless of the weather.
Well known by the bus drivers on the Shipyard run, he would regularly 'beat the bus' to and from work on his fixed wheel bike, a distance of around 8 miles in each direction. As he says, the roads were a lot quieter then due in no small part to the petrol rationing (now there's an idea!). He rode to work and back for 11 years, barely missing a day.
Les was a member of the Barrow Spartans Cycling Club before moving to Walney Wheelers and Dalton Wheelers which merged to become Barrow Central Wheelers. Interesting to note that the Spartans was a strictly 'men only' club at that time.
These pages 'Cycling before Lycra' are dedicated to Les and my mother Joan, and I thank them for supplying the photo's, and the anecdotes to go with them.
---