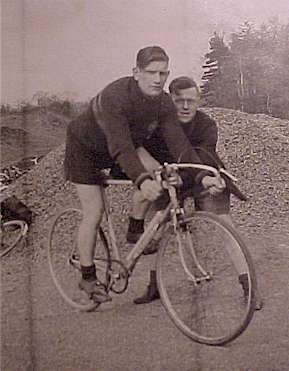 Racing was mainly done on fixed gear bikes at that time (1930-40's). In addition to that, there were some rather 'strange' rules. As the gear was fixed, you only needed a front brake, but had to have a bell, black tights and a jacket. Jacket sleeves could not be rolled up above the elbows!

The picture on the left, taken at Lake Bank Hut (on the shores of Coniston Water) in 1941, shows Les Nelson being held by L. Preston after a time-trial. Note the clothing - big and bulky, and that brake lever!

As well as the many local time trials, they regularly raced down at Brock (Near Preston). They used to ride down on a Saturday afternoon (a distance of around 60 miles), camping overnight or lodging in B&B's, race early Sunday morning (7:00am - 1st man off) then ride home.

Fast men of the time on Brock were Shake Earnshaw, Tommy Snape and ??? Leadbetter.

Les tells a tale of the day he was riding a '50' down at Brock. Nearing the end of the race, his handlebars snapped. One side just sheered off (the one with the brake on) at the stem. He limped to the finish, holding the brake on a bit of handlebar. Now he had the dilemma of the ride home. It was Sunday, so no bike shops open. So he made a makeshift repair with a branch from the hedge, stuck it into the stem, attached the brake, and rode the 60 miles home like that.