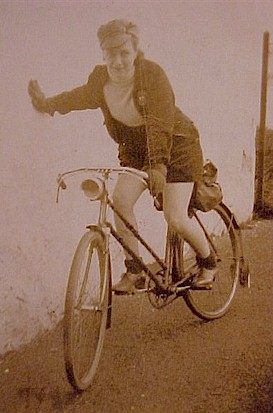 Touring club runs took place every Sunday, mainly into the Lake District, but also into Yorkshire (Ingleton, Settle etc).
Here's Mum (Joan Nelson - nee Thomas) leaning against the wall of the White House Cafe (now demolished) at Levens in 1941.
The bike she's on here is of unknown make, but she later bought a 'Halder' (second-hand of course as during the war it was very difficult to buy new bikes, not many were being made).
Les's first bike was a "Sun Wasp", 19" frame, 26" wheels. He then bought a "GA" (which he thinks stands for 'George Astbury'). It was a Solihull model, egg-shell blue, 21" frame (too big!), 26" wheels, Cyclo gears (3 speed derailleur). For racing he turned the wheel round and put a fixed cog on. The complete bike cost him £12.00 which he paid off at 4s 6d per week, which was given to his father who had put the money up for the bike. Les's wages at that time were around £5 per week.
There certainly were some characters around at the time. One Les mentions often is a chap called Den Willetts, someone Les describes as a truly 'hard' man. One of his party tricks was to take hold of a sign post or lamp post, and hold himself out horizontal to it. Many others tried it, and most failed. This chap also worked in the shipyard, and during summer he used to move out of his house in Barrow, take his tent to Coniston and live there for the summer months. Riding in each day and back each night from the shipyard.
Les says it was Den who, on shredding an inner tube with a bad puncture, stuffed the tyre with grass. He'd stop every so often to pack more grass in as it got flattened. When he got home his legs were apparently green!
He would often go touring and just sleep in the ditches with a bike cape over him, and was one of the few at the time to tour on the continent (Les thinks it was Austria).