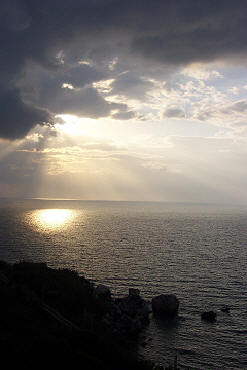 Although we were taking 4 flights on this holiday, it probably turned out cheaper than any of the other holidays we've had.
We were flying from Blackpool to Stansted; Stansted to Pescara; Bari to Stansted; Stansted to Blackpool.
The flights between Blackpool and Stansted were 99p (though don't forget the £15 for the bike!).
Stansted to Pescara was £12.99, Bari to Stansted was 49 euros. If it wasn't for the £15 bike charge on each flight (thankfully they don't charge double for a tandem) it would have been crazily cheap.
Konrad's wife drove us down to Blackpool in the camper van (with the tandem inside). We arrived with plenty of time and after we'd convinced the security chap that it really would be easier if we left the front wheel in and the handlebars 'useable', they wheeled the tandem away and we settled down waiting for the call for the flight. After about 10 minutes, an announcement came over the tannoy asking Mr Orlowski to report to the security desk. When we arrived, they had Konrad's panniers in front of them and asked to check them. No problem there, until they found the small bags of white powder (energy compound) in the bottom of one of the panniers. I think he thought he'd stopped a major drug smuggling operation. He opened one of the bags and tasted the powder. All OK he said. (Do these security staff go on cocaine tasting courses then I wondered?).
Not long after this, we were called through to board the plane. I was surprised that we went straight on to the plane, they closed the doors and we taxied to the runway. We were at least 30 minutes ahead of our departure time, but I guess once everyone's turned up, if there's a slot, they can go. Now that's great for all those who weren't facing a night trying to sleep on a chair in Stansted airport, but we were a bit dismayed that we'd be arriving at Stansted probably before we should have set off from Blackpool. Our flight to Pescara was not until around 7:30am, and after spending a night in Manchester airport once I was not looking forward to 10 hours or so in another one.
We arrived at Stansted, and so did the tandem and our luggage and we walked around looking for somewhere comfortable to doss down. Of course there isn't anywhere comfortable. They purposely make the seats uncomfortable, with arms, so you can't lie on them etc. Anyhow, we found a quiet corner, and settled in for the night. We'd only been there about 10 minutes when the pneumatic drill started. They were doing 'major renovations - for your security and comfort'. Not ours I thought. Anyhow, to cut a long story short we got about 30 minutes sleep, but luckily there was a cafe open to keep us amused.
We were one of the first in the queue for the Pescara flight and having learnt our lesson from 2002, didn't hang about and went straight out to the gate. The flight was about 15 minutes late leaving, but apart from that it was uneventful.
Tandem? - what tandem?
The flight back from Bari was uneventful (to start with). The flight was about 90 minutes late taking off, but we were in no rush. We landed in Stansted and waited for the tandem to appear - and waited and waited. After about an hour we enquired as to where it might be and after another long wait were told that it certainly wasn't on our flight. Again, to cut a long story short, it had gone to Stuttgart (well they both begin with ST). Suffice to say that it eventually turned up about 4 days later - a couple of dinks in the paintwork, but thankfully largely unscathed. It's at times like this that RyanAir's policy of signing disclaimers etc starts to bite. We were assured that if it didn't turn up at all, we would be able to claim the cost of the tandem, but I dread to think what hassle and paperwork that would involve.