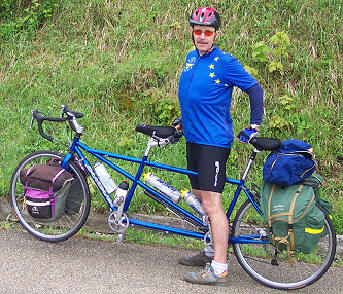 All flights were with RyanAir. As we'd flown with them before, we knew that they appear to accept a whole range of packing, ranging from none to 'put it in a box'. As the tandem doesn't have S&S couplings then a box was out of the question (that'd have to be some box!).
We used our tried and tested method of wrapping the tubes using pipe lagging and bubble wrap, secured with lots of electricians tape, and covered the transmission with a sheet of cardboard (bent over the chain ) and taped securely. As well as protecting the rear mech., it protects other peoples luggage. We removed the pedals, and fastened one of the cranks to the chainstay to keep it from moving, and basically that was that. A tandem is awkward enough, so we decided the best option was to leave both wheels on, and not turn the handlebars, to make it easier to manage.
We didn't let any air out of the tyres, but unlike previous times, the staff insisted that we deflated them (rather too much for our liking). But you can't argue (if you want to get on the flight!).
We were careful again this year that all our bike tools, pedals, and anything else we could think of that could vaguely be described as a 'potential weapon' was placed in the panniers to go on as hold luggage. Sharp instruments like screwdrivers, scissors etc were being confiscated.
We kept the bubble wrap etc for use on the return journey, stuffing it in the saddle bag.
RyanAir have obviously tightened up their charging mechanism, and we had to pay for the tandem on all flights (£15 I think for each flight out, 25 euros for the return) and as we were taking 4 flights, that's something to budget for! It cost more than the flights themselves!!