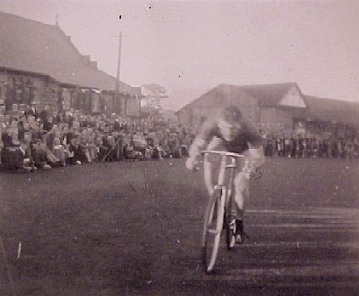 Les Nelson winning a Dalton Gala event on Dalton-in-Furness Cricket Field. There were 3 races altogether, Les won all three. In those days, amateur meant amateur, ie. no money could change hands. Vouchers were often given as prizes, to spend in local stores.

In this event, Les won a chip pan! He also remembers one of the other prizes was a biscuit barrel, which he still has.

There were professional races on grass-track at Keswick and Grasmere. If you entered any of these races, you were deemed to be professional and couldn't re-enter the amateur ranks. A lot of amateur riders would enter these races under pseudonyms.