The date: September 3rd, 1939.
The day World WarII was declared.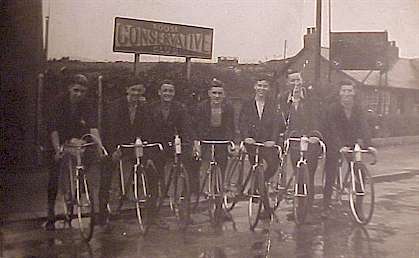 Pictured from left to right are...
J.O'Donnell, J.B.Winder, J.Gerris, L.Nelson, J.Campbell, A.Myers, R.Lee
Pictured above are some of the members of the Dalton Cycling Club before the start of the Barrow-Newby Bridge-Barrow time-trial. This race ran from the Roose Conservative Club in Barrow-in-Furness, Flass Lane, Rating Lane, out along Abbey Road to Millbrow, Dalton, Ulverston (Station Corner), Queen Street, King Street, Fountain Street, Hart Street, Sunderland Terrace, Arrad Foot, Greenodd, Haverthwaite Cross Roads, Backbarrow Village, Blue Mills, turn at Windermere Road End (Newby Bridge) and retraced the route. A total distance of 35 miles over what would today be called a sporting course.